We are right in the middle of the "cold and flu season" and I am sure most of you have either been sick or someone in your family has been this year. We heard about Elderberry a few months back and started using the syrup when any of us had been exposed to someone that was sick, or when we had a busy week and might not have gotten all the sleep that we should have. We have seen a boost in our energy, and especially our immune systems.
I decided to find out HOW TO MAKE ELDERBERRY GUMMIES, and I encourage you to try one or all of these recipes for yourself and your family. You will be glad you did.
We all have heard by now of elderberry gummies. Elderberry seems to be one of the hot topics for fighting the common cold and flu as well as having many other benefits. But, elderberry has been used for years for its medicinal properties. In the Middle Ages, elderberry was called a Holy Tree, believed to have the ability to preserve health and lengthen one's life. (Source: Everyday Health)
What is Elderberry good for?
Common cold

Flu

Constipation

Heart Disease

Gingivitis

High cholesterol

Hay fever

Weight Loss
What are the benefits of elderberry?
Low-calorie food packed with antioxidants

High in vitamin C

High in dietary fiber

Ten times more flavonoids than other berries

Rich in flavonol, anthocyanins, which is what gives the berries their dark black-purple color

Strong antioxidant with anti-inflammatory effects
What are elderberry gummies?
Although many adults love the taste of elderberry, many kids do not. A great way to improve the taste a little bit and make it fun for kids is by making your own Elderberry gummies.
Quick and simple ingredients and you will have an immune-boosting gummy your kids will love.
Is it safe to take elderberry gummies daily?
There is no standard dose for elderberry. If you are taking elderberry gummies for the immune boosting properties, take one to two gummies daily. If you are taking the gummies when it's flu season, or you feel something coming on, definitely take two gummies. Everyone responds differently to elderberry. Some think because it is a natural fruit you can take it like any juice. This is not true. Start out slow and see how your body responds to elderberry. But, definitely take elderberry for all the amazing properties it contains.
Can elderberry help prevent the flu?
Many feel that elderberry is one of the most powerful ways to prevent or shorten the duration of a cold or flu. With its antiviral properties, elderberry has been shown to significantly fight against colds and flu symptoms, as well as herpes, decrease pain and inflammation and reduce symptoms of upper respiratory infections.
Does Elderberry help immune system?
Elderberries contain many vitamins and nutrients that are beneficial to people's health. They have been used in boosting health and to fight infections for years.
One cup of elderberries contains 106 calories and 26.68 grams (g) of carbohydrate. A cup also contains the following vitamins and minerals:
870 mg of vitamin A

406 mg of potassium

52.2 mg of vitamin C

9 mg of folate

55 mg of calcium

2.32 mg of iron
Elderberries are also an excellent source of fiber, containing 10.2 g of dietary fiber per cup. This makes up a large amount of the recommended daily intake, which according to Dietary Guidelines for Americans is 34 g for men and 28 g for women. (source: Medical News Today)
What are the side effects of elderberry?
Ripe elderberry fruit is considered safe to take but in small quantities. If taken in large doses it can cause stomach cramping, diarrhea, stomach ache and sometimes the elderberry will act as a laxative.
The leaves, stem, bark, and root of the elderberry plant is considered poisonous and should never be eaten. Even the unripe berries can make one sick if eaten. That is why you want to make sure the berries are very ripe or dried.
Flu Busting Gummy Bears
https://wellnessmama.com/4599/flu-busting-gummy-bears/
Elderberry Syrup Gummie
https://www.simplyhappyfoodie.com/elderberry-syrup-gummies/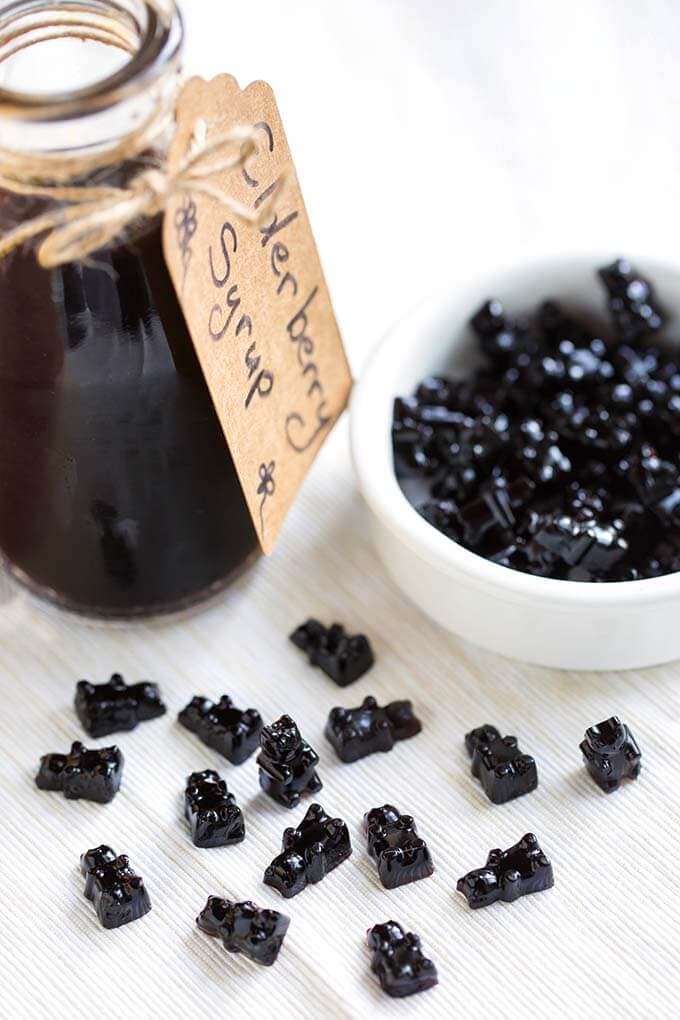 Immune Boosting Elderberry Gummy Snacks
https://thecoconutmama.com/elderberry-gummy-snacks/
Homemade Elderberry Syrup and Gummies
https://wholefully.com/elderberry/
Immune Boosting Elderberry Gummy Bears
https://www.savorylotus.com/immune-boosting-elderberry-gummy-bears/
Elderberry Syrup Gummy Bears Recipe – Remedy for Cold & Flu
https://foodisafourletterword.com/recipe/elderberry-syrup-gummy-bears-recipe/
Immune Boosting Elderberry Gummies Recipe
https://musthavemom.com/elderberry-syrup-benefits-elderberry-gummies-recipe/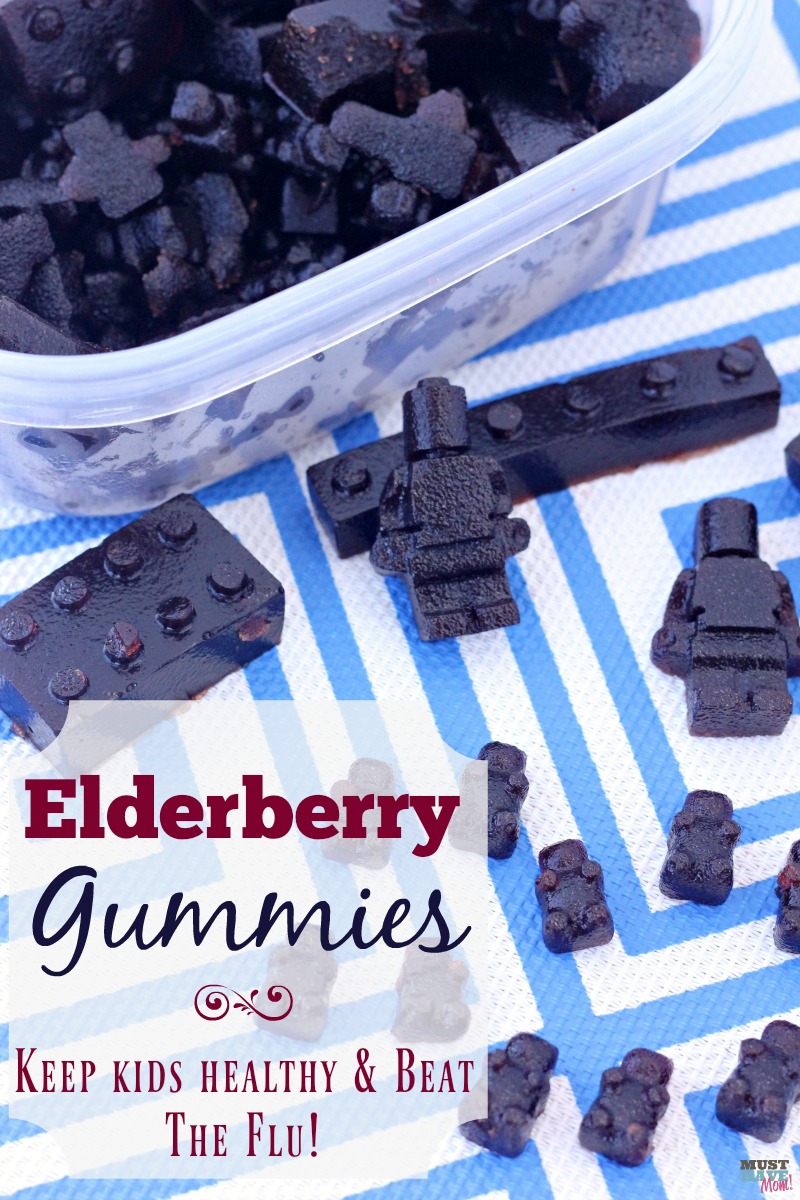 Instant Pot Elderberry Gummies Recipe
https://www.sparklestosprinkles.com/homemade-elderberry-gummies-recipe/
Easy Homemade Cold Fighting Elderberry Gummies Recipe
https://hellocreativefamily.com/easy-homemade-elderberry-cold-fighting-gummies/
Elderberry Gummies for Cold, Flu, and Sleep (that kids love!)
https://realfoodrn.com/healthy-gummies-cold-flu-sleep/
Elderberry Wellness Gummies
http://www.thebakerchick.com/2017/01/elderberry-wellness-gummies/
Immunity Boosting Elderberry Gummies
https://acultivatednest.com/immunity-boosting-elderberry-gummies/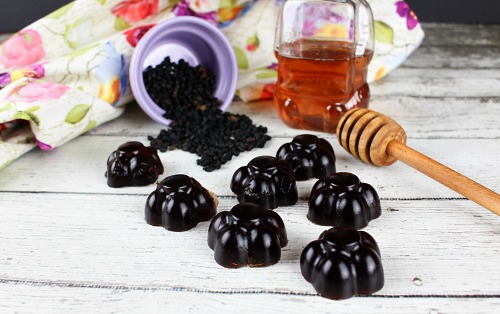 How to make Elderberry Gummy Bears
Are you ready to keep your family healthy the rest of this year? Try one of these yummy recipes and let me know if your family loves these Elderberry Gummies.